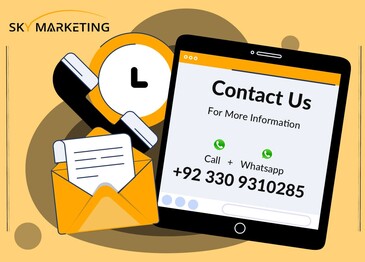 Islamabad, Pakistan, 06/26/2021 / SubmitMyPR /
7 Reasons to Invest in the Bahria Hills is going to life-changing information for you because after going through these convincing reasons, you certainly could not resist yourself to avail the opportunity to invest in Bahria Hills Islamabad.
The Bahria Hills Islamabad is already duly approved by the Capital Development Authority (CDA), located at Angoori Road with direct close access from Murree Expressway in Zone-IV of Islmaabd opposite to the Bahria Golf City. The state-of-the-art Project with a scenic view of lush green Margalla Hills is developing by Bahria Town Pvt. Ltd.
The exclusive, luxurious Project is also a part of Bahria Enclave 2 Phase-II. The owners have ensured to develop this society while following the international urban development principles by a team of property development experts. Now, this Project in the heart of Margalla Hills Islamabad is marketed by Sky Marketing .
Following are the 7 Reasons to Invest in the Bahria Hills:
Location: The location of Bahria Hills Islamabad is situated at Angoori Road with direct access from Murree Expressway in Zone-IV Islamabad opposite the Bahria Golf City.
The prime location of Bahria Hills enables the people living in the society to enjoy the lush green beauty of Margalla Hills fully. The green surroundings also provide an eco-friendly and healthy lifestyle away from the polluted hustle-bustle of city life. Moreover, the Bahria Hills map is easy to understand.
Accessibility:
Bahria Hills in Bahria Enclave Phase-II provides easy accessibility as follows:
Right next to main Angoori Road Murree
Right close to Agro Farm Houses
Almost 19 min drive away from Kiani Road
Direct close access from Murree Express Way
Almost 10 min drive away from Kashmir Road
Almost 16 min drive away from Simli Dam Road
Almost 8 min drive away from E-75 National Highway
Almost 19 min drive away from Serena Hotel Islamabad
Almost 23 min drive away from Murree Road Islamabad
Almost 15 min drive away from Lake View Park Islamabad
Almost 19 min drive away from Quaid e Azam University Islamabad
Nearby Landmarks & Places:
Several nearby places surround the society. Bahria Enclaves in Islamabad is surrounded by several nearby landmarks & places as follows:
Bahria Enclave Islamabad
Bahria Enclave-II Islamabad
Bahria Agro Farm Houses Islamabad
Bhara Kahu Islamabad
Park View City Islamabad
Bahria Golf City Islamabad
Bahria Golf Heights
Green Enclave FGEHS Islamabad
Bahria Hills Islamabad
Chattar Park
Rawal Dam
Murree Toll Plaza
Sheraton Golf & Country Club
Naya Pakistan Housing Development Authority Islamabad
Bahria Hills Owners & Developers:
Bahria Hills is a residential project developing by Bahria Town Pvt. Ltd. The developers have chosen the current location to offer a prime place for the residents that is accessible from any place in Islamabad and Rawalpindi.
Now, this Project is marketed by the #1 Real Estate Company of Pakistan, "Sky Marketing." Bahria Town Pvt. Ltd. is considered to be among the top real estate developers of Pakistan and also ranks high in all of Asia.
The Vision of Bahria Town to build a housing society based on modern and fresh ideas, expertise, and technology. The Mission of Bahria Town provides an innovative and quality lifestyle to its residents at an unprecedented level.
Sky Marketing is not just a name; It is an identity and a legacy of commitment to the real estate sector of Pakistan by the owner, Mr. Usman Alam. The company has more than 15 years of experience in the property sector with 100% customer satisfaction and feedbacks.
Sky Marketing believes in the mutual trust of transparency and honesty to offer the best real estate development in all the major cities of Pakistan.
Bahria Hills NOC:
The No Objection Certificate (NOC) of the Bahria Hills is duly approved by the Capital Development Authority (CDA). That is why investors have shown such a great level of interest as soon as Sky Marketing overtook Bahria Hills. The legality of the Project is out of the question, and there is not a single doubt.
The legality of the Islamabad Project is not questionable because once the property is legal, the investors completely trust the property with their precious investments.
Bahria Hills Affordability:
The Bahria Hills is highly affordable, keeping in view its location and the easy access it offers. The special discounted rates are offered for a limited time, and with time the prices will be subject to the rise. This is the right time to invest in this exclusive multi-purpose Project.
Different plots offer a variety of usage and so the prices. Residential, corporate offices and retail areas provide easy installment plans for the convenience of the investors with utmost good intentions. The rapid development and popularity of the Project are proof of its affordability; otherwise, investors might not be taking this level of interest in this Project.
Bahria Hills Return on Investment:
The developers have made sure to develop and market the Bahria Hills Islamabad as a luxurious residential project with a golden opportunity of high yield investment guaranteed due to countless reasons.
Any investor will instantly get high returns on investment by availing of the most affordable installment schedules of Bahria Hills Islamabad in all of Blue Area Islamabad.
This is the best time to invest and earn plenty of profits in a very short period. Bahria Hills Islamabad is going to be the most lucrative Project that is yet offered in the heart of Islamabad, with much lower prices. Once the Project achieves further milestones of popularity, then some investors may find it difficult to invest, so do not waste time to give it extra thought; use all your investment and book a property.
Bahria Hills Facilities & Amenities:
The Bahria Hills is offering a unique and exclusive opportunity to invest in a world-class project. The international standards facilities and amenities will be unique and exclusive in nature like never before seen and experienced in Pakistan at affordable rates. The facilities in the Bahria Hills are as follows:
Eco-Friendly Environment:
The Project will provide an environment-friendly close-to-the-natural lifestyle with all the contemporary amenities. The Project will provide a unique experience that could not be found in Pakistan's Project.
The Project has taken into account the residents' water needs. For this purpose, water reservoirs will be developed to store a large amount of water to be used by the resident for daily chores. In addition, filter plants will also be a part of society to ensure clean drinking water for the residents.
Business & Commercial Hub:
The developers have taken care of all the needs of the residents, economic & commercial needs. For this reason, the Project will provide an all-in-one commercial area. From these areas, the residents may fulfill all the commercial needs from within the society.
A sense of safety is necessary for a residential and commercial environment. An enclosed community ensures safety. A security system with perfectly installed 24/7 CCTV cameras and other surveillance gear provides all-inclusive security to the people.
High-quality Infrastructure:
The infrastructure is developed with a high degree of professionalism and equipment to ensure the perfect development.
Bahria Hills Salient Features:
Bahria Hills is a project with the countless feature, but here are some of the unique and key features of the Bahria Hills in Islamabad:
• Affordability
• Water Resources
• Club House
• Retail Area
• 24/7 security
• Maintenance
• Boundary Wall
• Quality Development
• Water, Gas, Electricity
• Concealed electrification
• World-class infrastructure development
• Sports complex with indoor and outdoor facilities
Conclusion:
So far, 7 Reasons to Invest in the Bahria Hills must have changed your mind and negate any confusion to invest in the lavish world-class Project right now. Visit or contact Sky Marketing Islamabad and avail yourself of the lifetime opportunity to book a property you will always cherish.
Contact
Email: [email protected]
Website: https://www.skymarketing.com.pk/
Company: Sky Marketing Islamabad
Phone: (051) 848-7777
Original Source of the original story >> 7 Reasons to Invest in Bahria Hills Islamabad – Sky Marketing
Content Disclaimer:
DISCLAIMER of Liability. IN NO EVENT SHALL OUR PR COMPANY BE LIABLE OR RESPONSIBLE TO YOU OR ANY OTHER PERSON FOR ANY DIRECT, INDIRECT, INCIDENTAL, CONSEQUENTIAL, SPECIAL, OR EXEMPLARY DAMAGES OF ANY KIND, INCLUDING WITHOUT LIMITATION, LOST PROFITS OR LOST OPPORTUNITIES, EVEN IF ADVISED OF THE POSSIBILITY OF SUCH DAMAGES IN ADVANCE AND REGARDLESS OF THE CAUSE OF ACTION UPON WHICH ANY SUCH CLAIM IS BASED, INCLUDING, WITHOUT LIMITATION, ANY CLAIM ARISING OUT OF OR IN CONNECTION WITH ANY OF THE CONTENT, INCLUDING, WITHOUT LIMITATION, AUDIO, PHOTOGRAPHS, AND VIDEOS, OR OF THE ACCURACY, RELIABILITY, OR LEGALITY OF ANY STATEMENT MADE IN OR OMITTED FROM ANY advertisement, sponsorship, endorsement, testimonial, opinion, or other product-related or service-related statement or review appearing in the Websites or in ANY post or article distributed via the Websites.