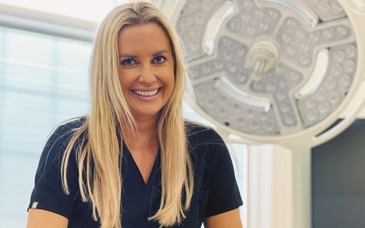 Utica, MI, United States, 06/19/2021 / SubmitMyPR /
Body positivity and self-acceptance are buzzing concepts in today's zeitgeist, defining practices of the modern woman. But still, behind the Twitter banners celebrating people of all shapes and sizes, there are individuals who cannot quite relate to the hype.
For these people, it often feels impossible to feign positivity when in reality, they're uncomfortable about their physical appearance, wishing they could change.
It's, for this reason, Ohio-based plastic surgeon, Dr. Katharine Roxanne Grawe, or Dr. Roxy, believes plastic surgeons can play an important role. After all, positivity is good, but toxic positivity is not, says Dr. Roxy.
"There's nothing wrong with wanting to improve your own body through cosmetic surgery if it means it will also increase your confidence," says Dr. Roxy. "Plastic surgeons should empower patients to feel comfortable in their own skin."
For Dr. Roxy, her personal goal of empowering women is one of the main reasons she says she founded ROXY Plastic Surgery in 2012. To this day, she says she enjoys helping her patients find a healthier, happier, and more confident path in life. She now hopes more doctors commit themselves to the same approach of empowering patients to be a better version of themselves, she says.
"Plastic surgeons should be in the business of encouraging women to make positive changes in their lives, and sometimes that starts with getting them the body they want," says the Ohio-based doctor.
Success means getting to see patients turn their lives around after receiving plastic surgery, says Dr. Roxy. She says she counts her wins by the number of women who have gained confidence and actually improved their lives after making a small change in their appearance.
Another advocacy Dr. Roxy says she has taken on is removing the stigma surrounding cosmetic surgery. To achieve this, she says she's started a thriving community on social media made up of mostly women-identifying patients who even enjoy watching their own surgery live on Snapchat.
These success stories from satisfied clients are what's helping educate others interested in learning about the benefits of plastic surgery, says Dr. Roxy. In effect, she believes it is empowering them to decide for themselves if and when they want to do it.
"Plastic surgery has touched the lives of many women. I love inspiring people to seek more for their lives rather than settling on where they may find themselves in life," she says.
Media Details:
Company name: Venture369, Inc.
Address: 48195 Commonview Drive, Shelby Township, Utica, Michigan 48317
Contact email: [email protected]
Original Source of the original story >> A Plastic Surgeon Must Commit to Helping Patients Feel Comfortable in their Own Skin – Dr. Roxy
Content Disclaimer:
DISCLAIMER of Liability. IN NO EVENT SHALL OUR PR COMPANY BE LIABLE OR RESPONSIBLE TO YOU OR ANY OTHER PERSON FOR ANY DIRECT, INDIRECT, INCIDENTAL, CONSEQUENTIAL, SPECIAL, OR EXEMPLARY DAMAGES OF ANY KIND, INCLUDING WITHOUT LIMITATION, LOST PROFITS OR LOST OPPORTUNITIES, EVEN IF ADVISED OF THE POSSIBILITY OF SUCH DAMAGES IN ADVANCE AND REGARDLESS OF THE CAUSE OF ACTION UPON WHICH ANY SUCH CLAIM IS BASED, INCLUDING, WITHOUT LIMITATION, ANY CLAIM ARISING OUT OF OR IN CONNECTION WITH ANY OF THE CONTENT, INCLUDING, WITHOUT LIMITATION, AUDIO, PHOTOGRAPHS, AND VIDEOS, OR OF THE ACCURACY, RELIABILITY, OR LEGALITY OF ANY STATEMENT MADE IN OR OMITTED FROM ANY advertisement, sponsorship, endorsement, testimonial, opinion, or other product-related or service-related statement or review appearing in the Websites or in ANY post or article distributed via the Websites.