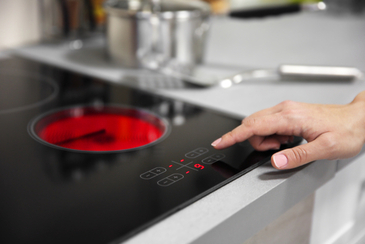 Vancouver, Canada , Canada, 06/27/2021 / SubmitMyPR /
Electric stoves are a staple appliance in every household. They are used continuously and require regular maintenance as well. Stovetops are a magnet for grease and dirt which can build up and stick if left uncleaned. It is actually crucial to keep your stove clean to avoid the risk of grease fires and pests.
Uncleaned electric stoves can get damaged and stop performing well. If you need more professional care advice, you can easily contact Express Appliance Repair Vancouver to help you or run a complete inspection before a stove repair service.
Let's take a look at the five best tips to keep your stove sparkly clean. Make sure that the burners and stove tops are turned off and cool before cleaning them.
1) Use a ceramic or glass cleaner
Brush away any leftovers or debris on the stove. Using a wet paper or washcloth, wipe the surface clean. Spray the cleaner and wait for 10-15 minutes for maximum efficiency. Spray some water on the stovetop and then rinse and clean.
An important tip is to never leave the cleaner on too long as this can cause permanent damage to the stovetop.
2) Make a cleaning paste yourself
In case you cannot purchase a cleaner, you can easily make your own cleaning solution at home. This solution works well in removing stubborn pieces of grime or dirt. First, wipe and clean the stove with a washcloth and any washing liquid.
Now make a cleaning paste using baking soda and water. Rub the dirty area with this paste and leave it on for 20 minutes. When you clean away the paste, the grime will go away with it.
3) Wear gloves
It is always recommended to wear gloves while using cleaning products as they can be quite harsh on the skin, especially over a long period of time.
4) Use natural products
To preserve and maintain the condition of your stovetop, it is a good idea to use natural, chemical-free, or mild cleaning products if possible. This is because strong chemicals in products may corrode your electric stove, eventually requiring appliance repair.
5) Vinegar
White vinegar is like a magic cleaning product for electric stoves. It deep cleans the stove with ease and is an affordable household item. Simply spritz some vinegar on the stovetop, followed by a generous sprinkle of baking soda.
Now place a hot, damp towel over this mix. Wait for 10-15 minutes and then wipe away the mix for a squeaky clean stovetop.
Media contact:
Company name: Express Appliance Repair Vancouver
Email: [email protected]
City: Vancouver
Country: Canada
Original Source of the original story >> Express Appliance Repair Vancouver Advises on Cleaning Electric Stoves
Content Disclaimer:
DISCLAIMER of Liability. IN NO EVENT SHALL OUR PR COMPANY BE LIABLE OR RESPONSIBLE TO YOU OR ANY OTHER PERSON FOR ANY DIRECT, INDIRECT, INCIDENTAL, CONSEQUENTIAL, SPECIAL, OR EXEMPLARY DAMAGES OF ANY KIND, INCLUDING WITHOUT LIMITATION, LOST PROFITS OR LOST OPPORTUNITIES, EVEN IF ADVISED OF THE POSSIBILITY OF SUCH DAMAGES IN ADVANCE AND REGARDLESS OF THE CAUSE OF ACTION UPON WHICH ANY SUCH CLAIM IS BASED, INCLUDING, WITHOUT LIMITATION, ANY CLAIM ARISING OUT OF OR IN CONNECTION WITH ANY OF THE CONTENT, INCLUDING, WITHOUT LIMITATION, AUDIO, PHOTOGRAPHS, AND VIDEOS, OR OF THE ACCURACY, RELIABILITY, OR LEGALITY OF ANY STATEMENT MADE IN OR OMITTED FROM ANY advertisement, sponsorship, endorsement, testimonial, opinion, or other product-related or service-related statement or review appearing in the Websites or in ANY post or article distributed via the Websites.