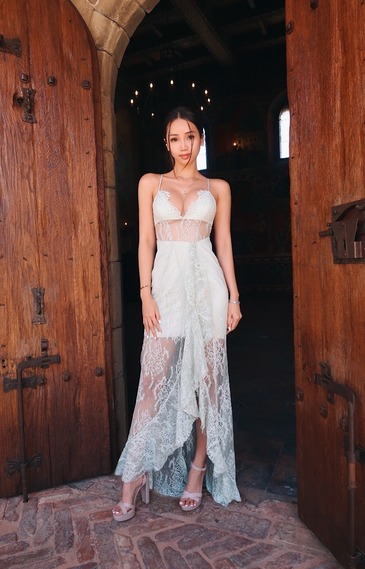 Utica, MI, United States, 06/19/2021 / SubmitMyPR /
Today, Faye Nguyen creates engaging content for the YouTube and Instagram platforms. She also works as a speech-language pathologist. Recently, she founded the Autism United Action non-profit organization and now oversees its operations.
Her first ventures as a child taught her very important lessons. Faye's very first business venture began at just 10 years old. This was when she started selling celebrity posters to her friends at school. This was among the earliest signs of her love for photography as well as promoting (and creating) content. Her next venture came four years later, at age 14, when she sold pre-owned clothing. She then revamped and sold them. This was Faye's first time monetizing her appreciation for fashion. Both of these early ventures translated into an early experience for her current career. These include fashion, modeling, blogging, and photography.
These early ventures taught Faye Nguyen that you don't have to wait until something is perfect to start a business. She says, "Don't wait until you have perfected the craft to start. Take the first step. You will make mistakes no matter what, but you will learn during the process." She goes on to say, "Understand yourself, use your own resources, and learn from your own environment and choose the path of least resistance for the highest probability of success."
Faye's interest in two professions that do not frequently overlap, content creation and speech-language pathology, also taught her an important lesson. "Don't ever box yourself in. We are multi-dimensional creatures, and we have various interests and talents," she says. "One should not limit oneself to one job, one career, one life path."
Faye Nguyen moved from Vietnam to the United States for college. She received an academic scholarship at the Washington State University and earned her M.S. in Speech-Language Pathology. From there, she began working as a speech pathologist and soon moved to California to continue that career. She also started putting her love of fashion and photography to use by posting fashion pictures on Instagram. As she gained traction, she decided to use her platform to combine her interests. She incorporated her speech pathology career into her YouTube channel.
Faye Nguyen proves that even our earliest business ventures can teach us lessons for later on in life. In her case, this was how she used her passion for fashion. Over time, she learned not to restrict herself to a single career and is using that opportunity to spread knowledge and good to others.
Media Details:
Company name: Venture369, Inc.
Address: 48195 Commonview Drive, Shelby Township, Utica, Michigan 48317
Contact email: [email protected]
Original Source of the original story >> Faye Nguyen Shares the Top Lessons Her First Venture Taught Her
Content Disclaimer:
DISCLAIMER of Liability. IN NO EVENT SHALL OUR PR COMPANY BE LIABLE OR RESPONSIBLE TO YOU OR ANY OTHER PERSON FOR ANY DIRECT, INDIRECT, INCIDENTAL, CONSEQUENTIAL, SPECIAL, OR EXEMPLARY DAMAGES OF ANY KIND, INCLUDING WITHOUT LIMITATION, LOST PROFITS OR LOST OPPORTUNITIES, EVEN IF ADVISED OF THE POSSIBILITY OF SUCH DAMAGES IN ADVANCE AND REGARDLESS OF THE CAUSE OF ACTION UPON WHICH ANY SUCH CLAIM IS BASED, INCLUDING, WITHOUT LIMITATION, ANY CLAIM ARISING OUT OF OR IN CONNECTION WITH ANY OF THE CONTENT, INCLUDING, WITHOUT LIMITATION, AUDIO, PHOTOGRAPHS, AND VIDEOS, OR OF THE ACCURACY, RELIABILITY, OR LEGALITY OF ANY STATEMENT MADE IN OR OMITTED FROM ANY advertisement, sponsorship, endorsement, testimonial, opinion, or other product-related or service-related statement or review appearing in the Websites or in ANY post or article distributed via the Websites.