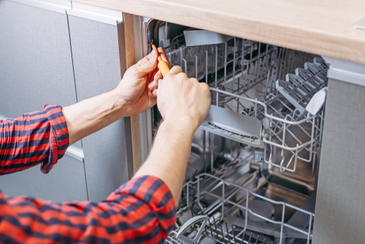 Ottawa, Canada, Canada, 07/02/2021 / SubmitMyPR /
When it comes to choosing the best quality dishwasher, take notes from dishwasher repair specialists. Professionals from Capital Appliance Repair who work on various dishwasher brands can give you invaluable insight into which brands are the best. Here are three high-quality dishwashers recommended by appliance repair specialists.
Whirlpool Dishwashers
Whirlpool has been a quality brand since 1911, which their longevity speaks volumes to the products they make. The Whirlpool dishwashers are well known for being reliable and efficient. Many models have great features, and they have plenty of budget-friendly machines, some even including smart connectivity.
It may not be the most advanced brand on the market, but it's known for being consistent and dependable, which consumers can trust. If you're looking for something more affordable than the other two brands mentioned but will still last a long time, Whirlpool is an excellent option.
Miele Dishwashers
Miele is the ultimate in luxury appliances, so if budget is not an issue, opt for a Miele dishwasher. It has been voted the best high-end dishwasher, with many models that are top-of-the-line quality. With some of the best features on the market, including WiFi, an incredibly quiet run time, and a QuickIntenseWash option, Miele has set a new standard in the industry.
One aspect that makes Miele a coveted brand is the warranty they offer. Miele offers a five-year warranty on most models with some other perks. The smart dishwashers they offer can handle it all, and these machines are almost a work of art. If you're willing to spend the money, Miele is the gold standard in dishwashers.
Bosch Dishwashers
Bosch is a brand that offers some of the best features among many of its models with consistent quality and performance. Several Bosch dishwasher models have been awarded best value, best overall, and best high-end dishwasher. Some of the best features of Bosch machines include how quiet they are, how flexible they are, and their capacity.
While choosing the best dishwasher for your needs will be subjective. You may require dishwasher repair regardless of the brand you choose, even if you spend the most amount of money.
If you're looking for an expensive and high-end option with many high-tech features, definitely go for Miele. If you need something affordable and don't need all of the extras, Whirlpool will be a great choice. If you want the best of both worlds, go for Bosch.
Media Contact
Company Name: Capital Appliance Repair
Email: [email protected]
Phone: (613) 454-1577
City: Ottawa
Country: Canada
Original Source of the original story >> High Quality Dishwashers Recommended by Capital Appliance Repair Specialists
Content Disclaimer:
DISCLAIMER of Liability. IN NO EVENT SHALL OUR PR COMPANY BE LIABLE OR RESPONSIBLE TO YOU OR ANY OTHER PERSON FOR ANY DIRECT, INDIRECT, INCIDENTAL, CONSEQUENTIAL, SPECIAL, OR EXEMPLARY DAMAGES OF ANY KIND, INCLUDING WITHOUT LIMITATION, LOST PROFITS OR LOST OPPORTUNITIES, EVEN IF ADVISED OF THE POSSIBILITY OF SUCH DAMAGES IN ADVANCE AND REGARDLESS OF THE CAUSE OF ACTION UPON WHICH ANY SUCH CLAIM IS BASED, INCLUDING, WITHOUT LIMITATION, ANY CLAIM ARISING OUT OF OR IN CONNECTION WITH ANY OF THE CONTENT, INCLUDING, WITHOUT LIMITATION, AUDIO, PHOTOGRAPHS, AND VIDEOS, OR OF THE ACCURACY, RELIABILITY, OR LEGALITY OF ANY STATEMENT MADE IN OR OMITTED FROM ANY advertisement, sponsorship, endorsement, testimonial, opinion, or other product-related or service-related statement or review appearing in the Websites or in ANY post or article distributed via the Websites.