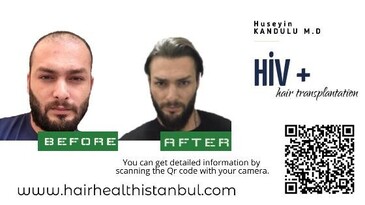 Istanbul, Turkey, 06/22/2021 / SubmitMyPR /
Just like anybody else, people living with HIV lose their hair too. So regardless of the condition, a hair transplant becomes one option to consider to regain their hair back. There are many views from various parts of the world on whether or not; patients living with HIV are eligible for the transplant.
Many feel like carrying the virus is the end of the world; hence fear discussing the issue with their surgeons. But, on the contrary, talking to these specialists is a bold step every HIV patient suffering from hair loss needs to take.
Who is Dr. Kandulu?
Hüseyin Kandulu was born in the Turkish Republic of Northern Cyprus and lived in Nicosia until his college education. Hüseyin Kandulu, who came to Turkey to study medicine, specialized in Plastic, Reconstructive, and Aesthetical Surgery which excited his interest the most after completing his 6-year medical training and achieved his academic title. He has been serving as a plastic surgeon for around 15 years.
Achievements of Dr. Kandulu
From the moment he started his profession as a specialist, he has been following the newest studies and developments in the world in order to keep up with the constantly developing field of medicine and to care for his patients in the best way possible. He applies in our country the new and reliable methods that have been developed abroad. He even does certain studies in Britain and trains international surgeons who have had their specialist degree on methods that very few plastic surgeons can apply. In addition, Hüseyin Kandulu has had advanced education in many more fields of surgical techniques and completed all of these educations with success.
Why Dr. Kandulu?
Dr. Kandulu is a rather good plastic surgeon whom people who would like to have plastic surgery or get hair transplants, which involve surgical operations, have been researching lately. The success of this specialist physician who started to make his name heard from the moment he started his profession has not been limited to the education he had or the operations he performed. In addition to good surgical operations, he offers his patients trust and sincerity by making the sentence, "I either do the best or don't do it at all. I don't want for my patients what I don't want for myself." his motto. Therefore, he has lately been one of the surgeons that grab the attention of the patients who would like to have hair transplants.
Where does Dr. Kandulu Serve?
Dr. Kandulu, who has completed more than a thousand successful operations both nationally and internationally who grabs the attention of patients who would like to have hair transplants the most, has worked in private hospitals for a few years after completing his compulsory work. He has been examining his patients in Kandulu Aesthetic Health Services, which he has opened, and also performs many plastic surgery and hair transplant operations in private hospitals he has contracts with.
Nowadays, the process is carried out in a sterile and medical environment. Therefore, the eligibility of whether or not one qualifies for transplanting is not determined by an individual's HIV status.
In some cases, there have been cases where surgeons have refused to conduct the transplant on HIV patients, yet their safety and staff members' safety is guaranteed. Such incidents have caused uproar in the restoration patient community, particularly patients who qualify for the procedure yet have been denied their rights.
On the other hand, it is essential to note that few and most patients have been receiving the procedure, just their colleagues who are HIV negative. Therefore, there should be no prejudice, stigma, or reason to deny HIV-positive patients this vital service that will help restore their hairline.
The main reason surgeons are concerned about performing an HIV hair transplant is the risk of contracting the virus and other illnesses. Their concerns are genuine now that HIV has no cure. But when surgeons take suitable precautions, they have zero chances of contracting the virus.
Patients living with the virus require a positive spirit and a zest for life to combat this deadly virus using ARVs. Losing hair can lower someone's self-esteem since it is considered one of the essential physical features. To live a happy life with a positive attitude, fighting baldness is a good starting point.
It is essential to understand that HIV is not fully proven, leading to hair loss, but stress and related medication can contribute. Therefore, treating HIV hair transplant should be treated the same way as any other HIV negative patient. Regarding the procedure, both follicular unit extraction (FUE) and follicular unit strip surgery (FUSS) are performed with lots of caution.
Whether the patient is positive or not, the surgical process is the same. First, hair is harvested from the donor area using one of the methods, either FUSS or FUE. After that, it is implanted into tiny recipient sites that the surgeon in areas experiencing baldness has created. HIV Hair transplant Turkey usually uses a fresh set of equipment and discards them immediately after ensuring everyone is fully protected, including the patient.
As long as the patient undergoing the process is healthy, no reason in this world should stop you from seeking services from HIV hair transplant Turkey. In other scenarios, a surgeon may reject a patient due to other underlying health conditions, but you can be assured HIV will not be a hindrance.
Media Details:
Mail: [email protected]
WhatsApp: +90 533 141 53 91
Website: https://www.hairhealthistanbul.com/hiv-hair-transplant/
Original Source of the original story >> HIV Hair Transplant – Hair Health Istanbul – Dr. Kandulu
Content Disclaimer:
DISCLAIMER of Liability. IN NO EVENT SHALL OUR PR COMPANY BE LIABLE OR RESPONSIBLE TO YOU OR ANY OTHER PERSON FOR ANY DIRECT, INDIRECT, INCIDENTAL, CONSEQUENTIAL, SPECIAL, OR EXEMPLARY DAMAGES OF ANY KIND, INCLUDING WITHOUT LIMITATION, LOST PROFITS OR LOST OPPORTUNITIES, EVEN IF ADVISED OF THE POSSIBILITY OF SUCH DAMAGES IN ADVANCE AND REGARDLESS OF THE CAUSE OF ACTION UPON WHICH ANY SUCH CLAIM IS BASED, INCLUDING, WITHOUT LIMITATION, ANY CLAIM ARISING OUT OF OR IN CONNECTION WITH ANY OF THE CONTENT, INCLUDING, WITHOUT LIMITATION, AUDIO, PHOTOGRAPHS, AND VIDEOS, OR OF THE ACCURACY, RELIABILITY, OR LEGALITY OF ANY STATEMENT MADE IN OR OMITTED FROM ANY advertisement, sponsorship, endorsement, testimonial, opinion, or other product-related or service-related statement or review appearing in the Websites or in ANY post or article distributed via the Websites.