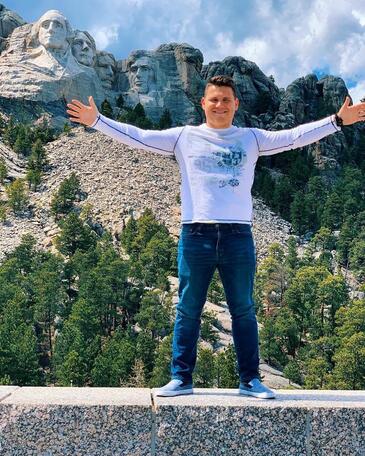 Utica, MI, United States, 06/19/2021 / SubmitMyPR /
Real estate is one of the most back-breaking businesses of modern day society and highly demanding. To pursue this business, one needs profound knowledge of the Real estate world. It's risky and equally tricky to tackle. He/she must be very skillful and brilliant in their work to achieve the desired results. Meet one of the passionate businessmen of the Real estate industry touching new heights every day – Roman Shapovalov. He was very clear about pursuing a Real estate business and was motivated by his friends who were already successful Real estate investors.
Roman never wanted to do that 9 to 5 job. He always dreamt of doing business. As expressed by him –"The main reason to be an entrepreneur was being in control of your time and being your own boss." Though it was not like a bed full of roses for Roman to pursue this business, he worked very hard, like every business start-up that requires capital which he managed from his previous business of car, and even he took the risks of taking multiple loans on his first few properties. To build his business ventures and to give recognition, he used to work for 15 hours a day and as per the need of the day until the work was accomplished. He firmly believes- "being an entrepreneur, you get paid based on results, not on time."
He equally focuses on gaining new customers and caters amazingly to the current customers. For any market or business, the customer is the king. If customers are happy, your business will definitely flourish tremendously. For grabbing new customers and to grow his business, he implements effective marketing strategies like- he focuses on Google adverts, talking to sellers, making phone calls, and putting all data in his system, and many more. He generates new ideas by discussing with the other top real estate entrepreneur, as he is never afraid of learning and improving for his business growth and success.
Roman always motivates himself by accomplishing desired results, growing widely as a businessman. He has always overcome all the hurdles and challenges very efficiently with his skills, knowledge, and most importantly, his humbleness, which wins the heart of the people. He is equally a very good leader, always believes in teamwork culture as together people and firms always grow very positively! He got inspired the most by the 'Secrets of the Millionaire mind.'
Media Details:
Company name: Venture369, Inc.
Address: 48195 Commonview Drive, Shelby Township, Utica, Michigan 48317
Contact email: [email protected]
Original Source of the original story >> Roman Shapovalov: The Astute Real Estate Entrepreneur Scaling New Heights of Success
Content Disclaimer:
DISCLAIMER of Liability. IN NO EVENT SHALL OUR PR COMPANY BE LIABLE OR RESPONSIBLE TO YOU OR ANY OTHER PERSON FOR ANY DIRECT, INDIRECT, INCIDENTAL, CONSEQUENTIAL, SPECIAL, OR EXEMPLARY DAMAGES OF ANY KIND, INCLUDING WITHOUT LIMITATION, LOST PROFITS OR LOST OPPORTUNITIES, EVEN IF ADVISED OF THE POSSIBILITY OF SUCH DAMAGES IN ADVANCE AND REGARDLESS OF THE CAUSE OF ACTION UPON WHICH ANY SUCH CLAIM IS BASED, INCLUDING, WITHOUT LIMITATION, ANY CLAIM ARISING OUT OF OR IN CONNECTION WITH ANY OF THE CONTENT, INCLUDING, WITHOUT LIMITATION, AUDIO, PHOTOGRAPHS, AND VIDEOS, OR OF THE ACCURACY, RELIABILITY, OR LEGALITY OF ANY STATEMENT MADE IN OR OMITTED FROM ANY advertisement, sponsorship, endorsement, testimonial, opinion, or other product-related or service-related statement or review appearing in the Websites or in ANY post or article distributed via the Websites.