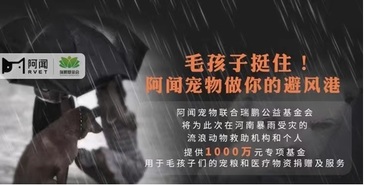 Shenzhen, China, 07/24/2021 / SubmitMyPR /
As widespread flooding hit the central China province of Henan, RVET, the New Ruipeng Pet Healthcare Group's proprietary online platform, partnered with the Ruipeng Foundation on Thursday to support homeless animal shelters and rescuers with RMB10 million yuan worth of resources. The resources will be used on food supplies and medication support for animals impacted by the disaster.
Since last Saturday, the area has been rocked by torrential rain and flooding, thousands of homeless animals have been sick and injured.
Animal shelters and rescuers have been affected by the natural disaster particularly hard with such a massive number of displaced pets, with limited resources while their facilities have been damaged and critical supplies have been in short.
RVET and the Ruipeng Foundation will continue to monitor the situation of the disaster and fully cooperate with the animal rescue and relief efforts, the company said.
Given that many pet hospitals have been damaged by the disaster, RVET also offers online veterinary consultation services through its application to ensure pets will be treated at the first time.
With RVET as part of its comprehensive business, New Ruipeng Pet Healthcare Group ("the Company") is a large-scale group with pet healthcare services as its main business, accompanying the vision of constructing a beautiful ecology. Currently, the Company has six integrated business segments: Pet Care Services, Supply Chain, Local Services, Third Party Diagnosis, Continued Veterinary Education and Marketing-as-a-Service. With more than 1,200 pet hospitals (as of 31 Dec, 2020), the Company covers pet medical care, pet grooming, retail, remote treatment, intelligent pet medical care, supply chain, continued veterinary education and pet culture promotion, etc.
Currently, as the rescue operation is still underway, the development of the flood situation has continued to tug at the heartstrings of all Chinese people. RVET and the Ruipeng Foundation called on the public to take care of their families and pets, and never abandon their pets.
Media Contact:
Contact Person: Miss Zhao
Email: [email protected]
Phone number: 400-020-8888
Company Name: New Ruipeng Pet Healthcare Group Co., Ltd
Website: www.ruipeng.org
Location: Shenzhen, China
Original Source of the original story >> RVET partnered with the Ruipeng Foundation to provide RMB10 million worth resources on animal rescuing
Content Disclaimer:
DISCLAIMER of Liability. IN NO EVENT SHALL OUR PR COMPANY BE LIABLE OR RESPONSIBLE TO YOU OR ANY OTHER PERSON FOR ANY DIRECT, INDIRECT, INCIDENTAL, CONSEQUENTIAL, SPECIAL, OR EXEMPLARY DAMAGES OF ANY KIND, INCLUDING WITHOUT LIMITATION, LOST PROFITS OR LOST OPPORTUNITIES, EVEN IF ADVISED OF THE POSSIBILITY OF SUCH DAMAGES IN ADVANCE AND REGARDLESS OF THE CAUSE OF ACTION UPON WHICH ANY SUCH CLAIM IS BASED, INCLUDING, WITHOUT LIMITATION, ANY CLAIM ARISING OUT OF OR IN CONNECTION WITH ANY OF THE CONTENT, INCLUDING, WITHOUT LIMITATION, AUDIO, PHOTOGRAPHS, AND VIDEOS, OR OF THE ACCURACY, RELIABILITY, OR LEGALITY OF ANY STATEMENT MADE IN OR OMITTED FROM ANY advertisement, sponsorship, endorsement, testimonial, opinion, or other product-related or service-related statement or review appearing in the Websites or in ANY post or article distributed via the Websites.