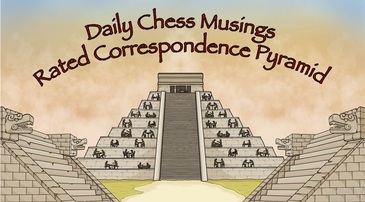 Lathrop, CA, 07/29/2021 / SubmitMyPR /
Chess players exist in a world that offers more choices to people than ever for enjoying their favorite pastime. While online speed chess continues to grow in popularity at a hyper-bullet rate fueled by many streamers, the pressure to keep up with this fast-paced action is exhausting and the mental malaise from overdosing on online speed chess has left many online chess players in search of slower time controls.
Playing chess at slow time controls with opponents in faraway lands is nothing new. Correspondence Master and chess historian Chris Torres states that, "In fact, there is record of a correspondence chess match played between The Emperor Nicephorus and The Caliph of Baghdad, Harun al-Rachid in the ninth century. A couple of centuries later, King Henry I of England played a game of correspondence chess against King Louis VI of France. Throughout modern history, everyone from royalty to prisoners alike have sent moves to opponents via letter couriers, courier pigeons, the postal service, the telegraph, radio, the telephone, email and via smartphone apps through popular chess servers."
Correspondence chess has seen a boom in popularity recently and it's not due to the need for social distancing (which is ironic as correspondence chess is the original form of socially distant chess). Instead, however, chess players of all ages are flocking to play Daily Chess (as correspondence chess is called on the most popular online chess server) to escape mouse dexterity races in favor of more meaningful chess experiences.
"Correspondence chess is about intentionally taking our time in order to play the best chess possible," says Torres. "When a player invests considerable time to play a strong chess move, they are adding to the significance of the game."
Chris Torres is amplifying his passion for correspondence chess by organizing the first affiliate run United States Chess Federation rated correspondence chess tournament on Chess.com. The Daily Chess Musings Rated Correspondence Chess Pyramid
has a unique format that has attracted scores of scholastic chess players into playing slow, thoughtful chess. With a low entry fee of $25 + USCF membership, this correspondence stepladder tournament is open to players of all ages and skill levels and adds a new twist to a millennium-old tradition of playing deeply meaningful games of chess with distant opponents. Plus, since this ancient style of chess play is offered online, signing up and checking the latest standings is easily accomplished at the official website for the Daily Chess Musings Rated Correspondence Pyramid.
Media Contact:
Name: Chris Torres
Email: [email protected]
Phone: +1 209-323-0197
Organization: Daily Chess Musings
Location: Lathrop, CA
Original Source of the original story >> Taking Time for Correspondence Chess in a Fast-Paced World
Content Disclaimer:
DISCLAIMER of Liability. IN NO EVENT SHALL OUR PR COMPANY BE LIABLE OR RESPONSIBLE TO YOU OR ANY OTHER PERSON FOR ANY DIRECT, INDIRECT, INCIDENTAL, CONSEQUENTIAL, SPECIAL, OR EXEMPLARY DAMAGES OF ANY KIND, INCLUDING WITHOUT LIMITATION, LOST PROFITS OR LOST OPPORTUNITIES, EVEN IF ADVISED OF THE POSSIBILITY OF SUCH DAMAGES IN ADVANCE AND REGARDLESS OF THE CAUSE OF ACTION UPON WHICH ANY SUCH CLAIM IS BASED, INCLUDING, WITHOUT LIMITATION, ANY CLAIM ARISING OUT OF OR IN CONNECTION WITH ANY OF THE CONTENT, INCLUDING, WITHOUT LIMITATION, AUDIO, PHOTOGRAPHS, AND VIDEOS, OR OF THE ACCURACY, RELIABILITY, OR LEGALITY OF ANY STATEMENT MADE IN OR OMITTED FROM ANY advertisement, sponsorship, endorsement, testimonial, opinion, or other product-related or service-related statement or review appearing in the Websites or in ANY post or article distributed via the Websites.