Payment is an important stop node for information flow and capital flow in transaction activities. Controlling payment means controlling the entrance of traffic. For Internet companies, traffic brings users, data and capital flow, which is the era of the "Internet of Everything" core competitiveness. For the blockchain, the introduction of traffic activates for the application scenarios of crypto digital currency. In the process of blockchain development, mastering the payment terminal means mastering the channel entrance.
Macro level
Social networking giant Facebook has confirmed plans to launch its Diem (Libra renamed Diem) cryptocurrency in early 2021, a stable-coin similar to Tether (USDT, Tether) and other price-pegged, which runs on the Diem project on its own Diem blockchain, the coin is held in a wallet called Novi.
Telegram, the world's largest encrypted chat software, also tried to enter the ranks of issuing cryptocurrencies, but under the pressure of American supervision, it gave up the plan to issue the coin. Its blockchain project TON (Telegram Open Network) was prepared after more than two years of final stranded.
The largest U.S. payments giant, PayPal, has opened up cryptocurrency purchases, including Bitcoin, to U.S. users in October 2020.
Google Pay debuted in 2015, and in March 2020, Google Pay added support for the Coinbase Card, which makes it easier for users to spend in-store with crypto assets. Last August, Google Pay added support for the BitPay MasterCard crypto debit card.
Micro level
On February 1st, Solana Labs launched the payment protocol Solana Pay, which supports USDC and SOL;
On March 17th, Coinbase announced the launch of Coinbase Pay, designed to make it easier for Coinbase users to top up their Coinbase wallet and explore the web3 from a Chrome browser extension.
The world-renowned crypto asset exchange Binance launched Pexpay, a third-party payment platform, as early as last December.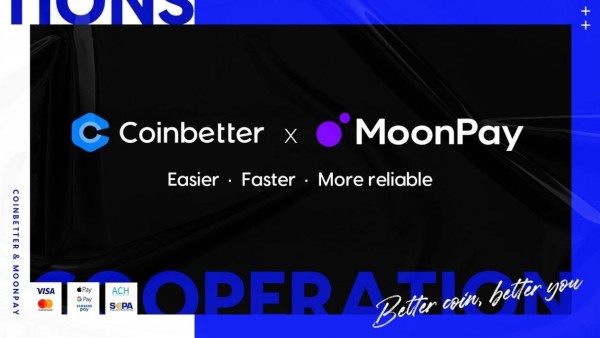 As the best place to trade digital currency, Coinbetter has officially launched the third-party payment platform Moonpay on March 13th this year.
According to Moonpay's official website, MoonPay is a third-party service platform that builds payment infrastructure for cryptocurrencies. By creating a simple and secure software solution, it lowers the threshold for mass users to pay with cryptocurrencies and enables people from all over the world. Being able to participate in the digital revolution of cryptocurrencies helps cryptocurrency providers to simplify transaction steps and increase conversion rates.
Rapidly growing business with a valuation of over $3 billion
MoonPay's main business is powering some of the leading cryptocurrency wallets, applications and payment solutions websites, currently operating in more than 160 countries and providing 7*24H online customer service in 8 languages. MoonPay supports more than 30 fiat currencies and more than 80 cryptocurrencies, including Visa, Mastercard, virtual cards, Apple Pay, Google Pay, and Samsung Pay, and is responsible for analyzing risks, processing payments with card companies, and completing transactions.
As of December 31st, 2020, MoonPay platform has a total of 43 million individual users and 250 partners. Its online payment business is growing rapidly in 2021, with the payment volume processed in the first four months alone increasing by more than 7 times year-on-year.
Since October 2021, MoonPay has started to raise its first round of venture capital of 400 million US dollars, and the valuation after the financing will reach 3.4 billion US dollars. The financing will be used to build a scalable blockchain as well as specific crypto businesses, including corporate partnerships, investments and products to take full advantage of blockchain technology.
Integrate cryptocurrency exchange portal to improve user conversion rate
It is reported that MoonPay has more than 250 partners, including Bitcoin.com, Trust Wallet and ZenGo, providing development tools for these cryptocurrency providers, virtual currency exchanges, digital wallets and other companies, including customizable components, public APIs, to build a seamless buying experience.
In December 2019, Bitcoin.com exchange, through a partnership with Moonpay, integrated a secure, simple and globally accessible on-ramp for its user base that allows users to purchase cryptocurrencies with a credit or debit card. As a result, Bitcoin.com's revenue has increased by 545% year-on-year in 2020. As a strategic partner, MoonPay responded quickly to suggestions to improve the UX/UI, and just three months after launch, Bitcoin.com saw a 250% increase in user registrations and a 230% increase in transaction volume.
In April 2021, MoonPay partnered with the BRD cryptocurrency exchange to establish a seamless buying experience for its global user base. Before MoonPay, the on-ramp solution that BRD relied on was not easy to monetize and had low conversion rates. In the first week after partnering with MoonPay, BRD user registrations increased by an average of 320 per day, conversion rate increased by 31%, and daily transaction volume increased by $150,000.
In July 2021, MoonPay created a direct login page for buying cryptocurrencies for instant cryptocurrency exchange Changelly. This new purchase page allows Changelly to reduce purchase steps by 40% for users. Since its launch, Changelly Buy has seen a 48% increase in conversion rates compared to the regular interface.
Unlike other payment platforms, Moonpay hopes to empower its partners with their own business through its own high-quality products and services, thereby increasing the user conversion rate.
Launched Polygon to realize faster and more accurate digital payment
In July 2021, MoonPay announced that its high-end system will facilitate high-speed and accurate digital payments through Polygon, providing a superior user experience to attract more users into the DeFi space. By launching Polygon, MoonPay can improve the following performances to help users achieve faster and more accurate digital payments:
Scalability – Fast and low-cost transactions on the sidechain and confirmed on the main chain, expanding the scale of currency conversion.
User Experience – MoonPay will take the cost and time of processing chargebacks through the WalletConnect-supported mobile app included with Polygon, improving the user experience.
Security – The operator of the Polygon chain is also the equity owner of the PoS system, which ensures the security of the payment process.
Reduced rates – digital currencies traded through Polygon do not charge subscription, subscription and redemption fees, only management fees and custody fees, and their management and custody rates are also relatively low.
According to the data of Awesome Polygon, the number of DApps in the current Polygon ecosystem has reached 273, and the number of infrastructure and development tools has reached more than 60.
As an innovative cryptocurrency exchange, Coinbetter has been exploring how to provide users with a good payment experience in the traffic portal of encrypted payment. Coinbetter officials said that they value Moonpay's professionalism and reputation in the industry very much. Based on Moonpay's excellent performance in user conversion rate, it will help the stable growth of the platform's business. Moonpay will be the basic guarantee for the platform to expand its international business. In the future, Coinbetter will strengthen communication and exchanges with Moonpay, complement each other's resources, and empower each other's value. We firmly believe that with the relationship corporate with Moonpay, a well-known third-party crypto payment company, there is reason to believe that Coinbetter will surely shine in 2022.
Media Contact
Company Name: Coinbetter
Contact Person: Media Relations
Email: Send Email
Country: Singapore
Website: https://www.coinbetter.com/