As the old political-science saying goes, "all redistricting is difficult." Of course, there is a choice and a trade-off. When it comes to representativeness, the resulting map is ultimately balanced – unless partisan advantage is seen as the primary criterion.
The Pennsylvania Supreme Court has set a clear "floor criterion" for what must be included in the revised map. They said that districts, cities and wards should not be divided except to achieve an equal population as required by federal law and to comply with the Voting Rights Act. However, they also reported (see page 124 of decision):
We recognize… it is possible that advances in mapping technology and analytical software could allow mappers, in the future, to design distorted maps of parliament, albeit. These neutral "floor" criteria only adhere to, however, activities that unequally dilute the power of a particular group to vote for parliamentary representatives.
Despite adhering to the floor criteria, take a close look at Pennsylvania's GOP legislative leaders' proposed map revealed some of the choices they've made. All that is needed is the population density. Here are some examples.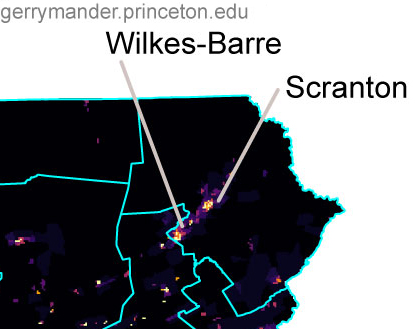 Here, in northeastern Pennsylvania, packing Wilkes-Barre and Scranton together in district 17 is an obvious partisan choice to benefit Republicans, as they have to split Luzerne County to do it. . They could easily move rural voters out of district 11 instead of Wilkes-Barre citizens. In this example, district 17 has a lot of Democrats and district 11 is Republican.
Lawmakers also proposed dividing the city of Reading down the middle. The eastern half of Reading is assembled with a portion of Montgomery County, carved as the sun god Osiris of Egypt. Certainly, the division of districts had to be placed somewhere to create districts with equal populations – but the question was where.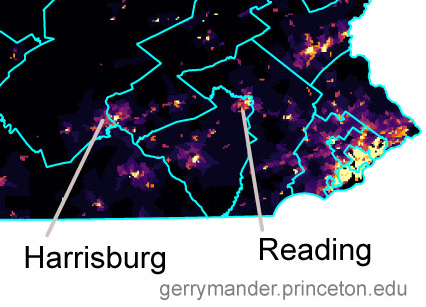 Harrisburg is on a district boundary, and it ripped apart to benefit Republicans, again leaving some non-District 11 urban residents. However, in this case, it was done using district boundaries rather than using an arbitrary line. Similar strategic choices have been made elsewhere in the state.
The net result is less harsher than the current map, but clearly still benefits one side – 12-13 Republicans, 5-6 Democrats for 50-50 voting on the whole state. It is not surprising that Governor Wolf rejected this plan. Now the Pennsylvania Supreme Court has the final map task.
For me, the big lesson here is that the rules for keeping counties and cities together are a good start – but they're not enough on their own. Formulating a balanced plan requires giving and taking between many concerns – in short is a process in which many voices are heard.
Thanks to Brian Remlinger and Will Adler for analyzing and mapping.